We've all seen them: those super fancy dollhouse kitchen displays all over social media. Putting one together would be a challenging yet rewarding activity - especially if you have never put together a full dollhouse display before. What better place to start than in the kitchen!
Thinking of starting a DIY dollhouse kitchen project of your own? This guide will walk you through everything you need to know in terms of the furniture and appliances you need, as well as why kitchens can make or break a dollhouse display.
Why Dollhouse Kitchens Are So Important to Get Right
Kitchens are the heart of the home, whether you're referring to a dollhouse or the real deal. The atmosphere within a dollhouse kitchen may determine whether or not your entire display feels real and "livable."
Plus, there is so much going on in a well-designed kitchen. This means there are plenty of opportunities to create a dollhouse display that is fun and engaging.
Kitchens are also naturally eye-catching.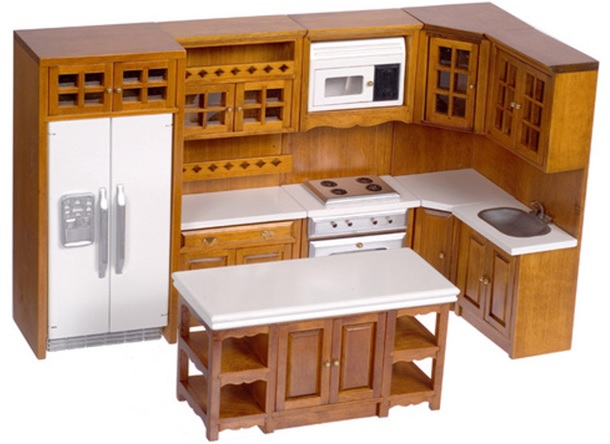 Must Have Dollhouse Kitchen Furniture
There are certain kitchen furniture pieces and appliances that you just have to have inside of your dollhouse kitchen. There are also some extras you can add to give it some flair, we'll cover those later on.
Here we will highlight some of the most important pieces to include in your DIY dollhouse project:
First and foremost, you'll need a kitchen table and chairs. Not only do these pieces of furniture add a touch of realism to the kitchen, but they also provide a great place for your dollhouse occupants to sit and enjoy a meal. We recommend choosing a table and chairs set that is specifically made for the style and time period of your dollhouse. This will ensure that the pieces fit perfectly in the kitchen, and that the look and scale is correct.
Next, you'll want to include a dollhouse stove or oven. This is an essential part of any kitchen, and it will provide a great place for your dolls to cook up delicious meals. You can also choose a Dutch oven or similarly "classic" kind of stove if you are putting together an older style dollhouse model. If your dollhouse is more on the modern side of things, you will want stainless steel appliances, and that includes the stove.
Another critical piece of furniture for your dollhouse kitchen is the refrigerator. This will provide a great place for your dolls to store their food and drinks. Here again you want to make sure that the appliance fits the time period. If your dollhouse setting is the mid 1900s, a stainless steel dollhouse refrigerator will look out of place. If you go back far enough, you don't need to include a refrigerator at all, since they were invented in the early 1900s. An authentic Victorian dollhouse would not have these kinds of appliances, for instance.
Finally, you'll want to include a kitchen sink and cabinets. When you think about the functionality of a basic kitchen, you really can't go without storage areas or a sink. Keep this in mind when thinking about the overall layout of your dollhouse kitchen and where everything should fit. Shelving should line most of the walls, and the sink should be located relatively close to the oven, as is the case in many homes. It helps to arrange dollhouse furniture and appliances just as they would be in real life, which adds realism to what you are designing.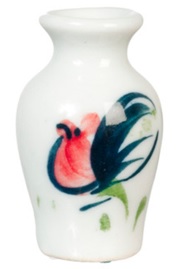 Additional Dollhouse Kitchen Decor Pieces to Consider
While the previously mentioned furniture pieces and dollhouse kitchen appliances are important, they aren't everything. If you really want your miniature kitchen to come alive, you need to think about how to accessorize!
More specifically, you should consider how you can add certain decor pieces and less important pieces of furniture that can give life to your display. The right pieces can lend a lot of realism and depth to your kitchen, which is what will give your dollhouse that extra bit of style.
Add in some additional appliances. A dishwasher, a microwave, or coffee maker will go a long way to adding that extra touch of realism. Keep in mind the time period or setting, however. Even a "retro" style dollhouse might not have every single appliance, as this might look crowded and out of sync with the atmosphere you are trying to create.
A few decorative items such as a clock, a vase, or a plant will help the space feel lived in and realistic. For example, most of us do actually have an analog clock in our kitchens, even in this age of advanced technology and mobile phones. While they are more so decor pieces now, adding one into your dollhouse kitchen would certainly help it feel alive. Vases and plants are also a great option to create depth and a more organic feeling, just be sure it makes sense (no plant fronds hanging over the stove!).
Use dollhouse tiles to create a certain look and feel. You can create a unique and eye-catching dollhouse kitchen by installing some attractive flooring such as tiles.
Dollhouse wallpaper is another option if you want your kitchen to have more of a retro vibe.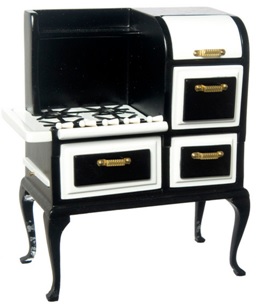 Shop For Dollhouse Kitchen Furniture
A dollhouse kitchen without any furniture would be rather dull! Luckily, you're in the right place for any kind of DIY dollhouse project. We have an extensive catalog of dollhouse kitchen furniture to choose from, with a variety of styles and time periods.
This means no matter what kind of kitchen you're putting together, you are likely to find just what you need right here! From beautifully crafted kitchen sinks with cabinets, to modern dollhouse kitchen appliance sets, ovens, counters and stool sets, dining tables and chairs, and more.
We also have plenty of decor, dollhouse tiles, bricks, doorknobs, and an array of other essentials. Whatever you need to put together an impressive display, you'll find it here.