Ready for a little dollhouse inspiration?
With the right pieces of dollhouse bedroom furniture and a little imagination, anyone can bring their dollhouse displays to life.
Follow along as we highlight some creative ideas you can use, as well as where to find the furniture pieces you need to make it all come together!
Tips For Designing Your Dollhouse Bedroom
For dollhouse enthusiasts, getting your displays just right can be a painstaking process. If you don't have any direction or inspiration it's easy to get a creative block and not know what to do.
Here are some basic tips for creating the perfect dollhouse bedroom display!
Go where the dollhouse creators are! Pinterest and TikTok are great for sourcing inspiration.
Have a vision in mind before you start buying furniture or doing any other aspects of the design.
If it helps, make a rough sketch of what you are planning. Be sure to make measurements of the room you are planning to furnish, so you can better plan for what kinds of dollhouse furniture you will need and where it should be placed.
Don't forget about the little details! Getting a bed and a few chests of drawers is a no-brainer, but what about the small accents that will make your dollhouse bedroom feel realistic and lived in? Tiny decor pieces, rugs, lamps, mirrors, and other items are a must if you want your display to truly come alive.
Those tips are a great starting point - especially if you are somewhat new to the design process. The first time you put together a realistic dollhouse bedroom it can feel daunting simply because of all of the options you may have at your disposal.
Think about the overall aesthetic of your dollhouse - what is the look you are trying to create? This will help you determine the kind of furniture you need to buy, as well as any other additions.
Dollhouse Bedroom Inspiration and Ideas
Below you will find plenty of inspiration to help you create a magnificent dollhouse bedroom, along with some additional tips for getting everything just right.
1. Realistic Cozy Bedroom? No Problem!
Dollhouse bedroom miniatures can help you create quite a realistic display if you know what you are doing and have a little inspiration.
Take a look at this dollhouse TikTok example from the world of #miniaturetiktok to get a good idea of what is possible if you have the right dollhouse bedroom furniture on hand. Check out those pillows and the books! These are the kinds of little details that go a long way when it comes to putting together a bedroom for your dollhouse that really shines.
Tip: What are some of the takeaways here? Layered looks and a little bit of calculated clutter make for a cozy experience!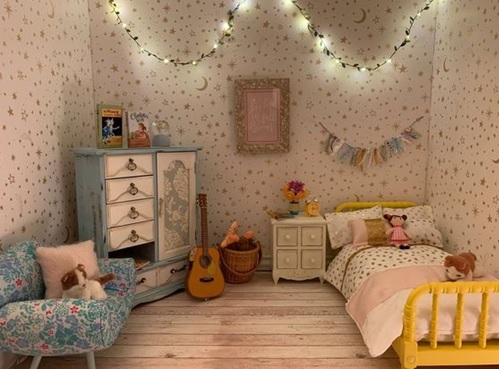 Lighting Makes a Difference
This dollhouse bedroom (click here to see the pin!) by Playtime Ideas has a few standout elements to it. We see again the carefully displayed items that lend a cozy lived-in feeling to the set, along with some nice color coordination. However what really makes the display stand out in our opinion is the lighting.
Whether you use actual dollhouse lighting elements or simply rely on your own home's lighting to light your display correctly, one thing is for sure: lighting makes a big difference! When possible, think about the role that lighting plays in your dollhouse bedroom. If your display looks a little dull or lifeless, it could be because there is not enough light to make the elements pop or stand out correctly. What good is beautiful dollhouse bedroom furniture if you can't see it or appreciate the details, right?
The Right Bedroom Furniture For The Job
Speaking of which, no dollhouse bedroom setting would be complete without the proper furniture with which to furnish it. Sometimes, simply seeing a piece of intricately designed dollhouse furniture is enough to spark some inspiration!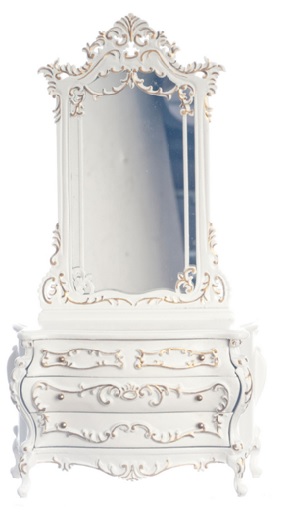 Take a look at this stunning Dressing Table with Mirror we have available in our store, for instance. Do you see how such an ornate piece of furniture could be used as a centerpiece in a Victorian dollhouse bedroom? You could add similar-looking dressers and a beautiful French-style dollhouse bed, along with some romantic decor items, to really create a comfortable yet classy set with ease.
If you are looking for a great starting point when it comes to putting together an eye-catching dollhouse bedroom, consider getting a set like this one: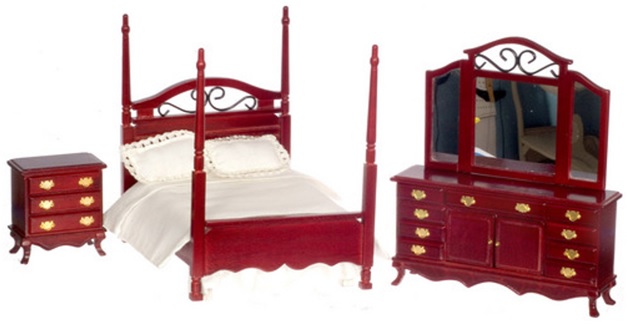 This dollhouse poster bed set is perfect for immediately creating a certain "feel" that you can go with, to guide you toward other furniture pieces and accents you would like to add in your bedroom.
Remember to pay attention to those small details. If you wanted to start with a set like this, be sure to jazz it up with your own elements, such as additional pillows and perhaps a vase of flowers on the nightstand.
Or you could start off with a far fancier bed like this 4-poster: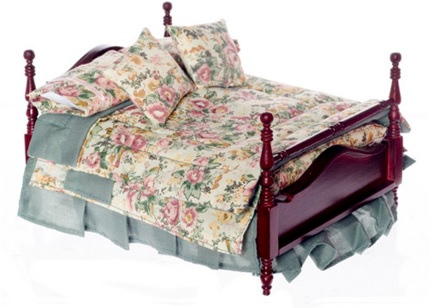 This kind of bed would look great accompanied by the right chests of drawers and other items. Establishing a floral motif would be easy with a piece like this.
Ready to Begin Creating Your Dollhouse Bedroom?
We hope these ideas give your imagination a little fuel.
There's no shortage of different styles and arrangements you can create with bedroom miniatures, but the most important part is having the right furniture on hand to begin with!
Take a look around our store right here at Dollhouse City to find everything you need to furnish your dollhouse bedroom - right down to the flooring and lighting!