Creating a realistic log cabin dollhouse can be a fun and rewarding project for both children and adults. Not only can it provide hours of imaginative play, but it can also serve as a beautiful display piece in your home.
This quick guide will outline the basics for putting together a miniature log cabin that is sure to captivate the imagination!
How to Furnish a Dollhouse Cabin
Traditionally, log cabins were simple and utilitarian structures that served as a place to live and work. As such, the furniture found in a log cabin would typically be functional and practical, rather than decorative or ornate. Today we think of these kinds of furniture pieces as being attractive because they possess a rustic aesthetic, but it is helpful to keep in mind that the more realistic you keep your cabin, the more it will feel "lived in."
Some common types of furniture that you might find in a traditional log cabin include:
Beds: Log cabins often had simple bunk beds or platform beds made of wood, with quilts or blankets for bedding.
Tables: A dining table and chairs would be a necessary piece of furniture in a log cabin, as well as a work table for tasks such as sewing or carpentry.
Chairs: Log cabins would have a few chairs for seating, such as rocking chairs or ladder-back chairs.
Storage: Log cabins would have storage pieces such as trunks or chests to store clothes and other belongings.
Kitchen: A log cabin would typically have a small kitchen area with basic cooking and storage equipment, such as a wood stove, pots and pans, and a table for preparing food.
In addition to these basic pieces of furniture, you might also find other functional items in a log cabin such as lanterns for lighting, a wash basin for washing clothes, and a woodpile for the stove. When selecting furniture and decor for a log cabin dollhouse, it's important to choose pieces that are appropriate for the setting and reflect the practical nature of traditional log cabins.
Start With a Quality Log Cabin Dollhouse Kit
Before you start putting together your log cabin dollhouse, it's important to gather all of the necessary materials and tools. You will need a log cabin dollhouse kit, miniature furniture and decor, glue, and any additional tools such as scissors and tweezers.
Once you have all of your materials, it's time to start assembling the log cabin itself. Follow the instructions provided in the kit carefully to ensure that the cabin is sturdy and properly assembled.
It may be helpful to use tweezers or small tools to assist with the finer details.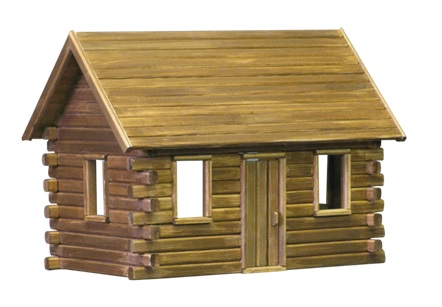 Finding the Right Log Cabin Dollhouse Furniture
After the log cabin is assembled, it's time to start furnishing and decorating. A realistic log cabin should have all of the necessary amenities, such as a kitchen, living room, bedroom, and bathroom. You can find miniature furniture and decor specifically designed for log cabin dollhouses right here in our online Dollhouse shop.
When selecting furniture and decor, consider the size of the rooms in your log cabin and choose pieces that will fit comfortably. It's also important to choose pieces that are appropriate for a log cabin setting, such as rustic wood furniture and cabin-themed decor.
Once you have all of your furniture and decor, it's time to start placing everything in the log cabin. Be sure to pay attention to the scale of the pieces and the layout of the rooms to create a realistic and cohesive look. You may want to use glue to secure the furniture in place.
Finally, don't be afraid to get creative and add your own personal touch to the log cabin. You can use miniature plants and outdoor accessories to create a realistic backyard, or add personal touches such as family photos or keepsakes.
With a little patience and attention to detail, you can create a beautiful and realistic log cabin dollhouse that will provide hours of imaginative play and serve as a charming display piece in your home. Just remember to stay as authentic as possible to the time period and setting, especially when it comes to the little details like small pieces of decor, or the yard elements you place around the dollhouse.
Shopping For The Perfect Items For Your Dollhouse Cabin Setup
You don't have to look far to find the best furniture and decor for your dollhouse cabin. Here at Dollhouse City, we have an incredible selection of log cabin dollhouse furniture and accessories, ranging from beds, dressers, cabinetry, bathroom fixtures, lighting, and more. We also have a high-quality log cabin dollhouse to get you started!
No matter what kind of dollhouse you intend on putting together, we have everything you need right here!