Building dollhouses and miniatures seems easy enough on the surface, doesn't it? Really, how hard could putting one together be? You'll only need a box, a pair of scissors, some glue, and a fair bit of imagination, right?
Truthfully–it depends. Yes, you can probably put together a basic dollhouse with those materials if you're crafty. If you want something more detailed and elaborate, though, you're definitely going to need more than that.
Novices may have an especially hard time when they first start building dollhouses, even if they're already accomplished crafters. Many dollhouse makers still struggle, even when they have a comprehensive floor plan on hand. It's also possible to still have a hard time even when you're working with a complete dollhouse kit.
This guide is intended for people who are about to build their first dollhouse, but you might still find some useful information here even if you've already completed a few projects by yourself. Read on for a list of guidelines that can help streamline your process and prevent you from making costly mistakes: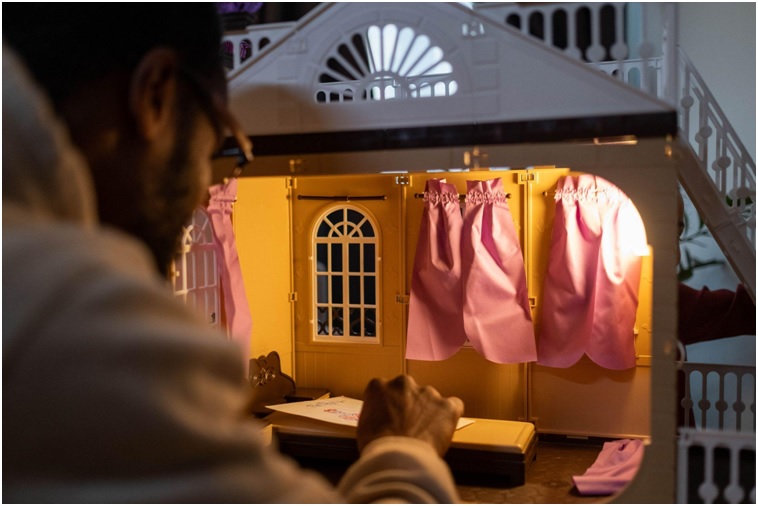 Obtain the necessary tools
There are few things worse than not having the right tool for something when you're deep into a project. It can break your concentration and disrupt your flow. That's why it's very important to have the tools you need on hand before you start working on anything.
As you start working on more and more projects, the list of tools you'll need will likely evolve. However, here are a few things you'll always need:
Knives and cutting tools: These can include X-Acto style knives, utility knives, scissors, and paper trimmers. A framing square may also come in handy for certain tasks.
Clamps: These will hold the parts of your project together while you wait for glue to dry. These can include bar clamps, right angle clamps, and other small clamps that are suitable for working with miniatures.
Detailing tools: A precision tweezers set is an easy and economical way to get all the tweezers you'll need for fine detail work on your dollhouse and on doll house furniture.
It's also a good idea to invest in different types of glue, depending on the materials you'll be working with. Which brings us to…
Familiarize yourself with common building materials
Dollhouses can be made with all kinds of materials. They can be as flimsy as paper or cardboard, or as sturdy as real wood. It's important to know and understand the properties of these materials, as well as how they differ from each other.
Cardboard and other paper products are both cheap and easy to work with, but you can't expect them to last a while. If you're building one for or with a child, it can be a good option.
For a dollhouse you'd like to display at home and pass down to your children, you'll want to use stronger materials. Oak, pine, and other types of wood are great for this, but you'll need specialized equipment to work with them.
MDF or medium-density fibreboard is a great option that offers the best of both worlds: it is both sturdy and easy to work with. Many dollhouse kits make use of milled MDF for the exterior walls, such as this Beachside Bungalow Dollhouse Kit from our catalog, an excellent entry-level dollhouse kit for the novice builder.
Start with small and simple projects
As with all undertakings, it's best to start off small and simple before moving on to more complex dollhouse making projects. This is especially true for the first-time builder, as it gives you an opportunity to hone and perfect the miniature crafting skills you'll need to work on projects that require a lot of fine detailing work.
Are you a complete newbie? Consider building a room box first, before moving on to small dollhouses. A room box is a box that can be decorated however you like; it's a good way to practice your decorating skills for various rooms, whether it's a dollhouse bedroom, living room, or kitchen. You can use pre-made doll house furniture in these room boxes until you're confident enough to start making your own.
You may also want to build using dollhouse kits before moving on to making your own dollhouses from scratch. We carry a number of great dollhouse kits that are perfect for first-time dollhouse builders, such as the Crocketts's Log Cabin or this Lakeside Retreat Log Cabin.
Pay attention to scale
In dollhouse building, scale refers to the ratio of a dollhouse, a piece of dollhouse furniture, or decorative items for dollhouses to their real-life counterparts. It is usually expressed with a colon or a slash (e.g. 1:8 or 1/8). The bigger the second number is, the smaller the item.
An easy way to make sure that your doll house furniture and decorations will fit in the house you've built is to make sure that everything is the same scale. Utilizing the same scale for everything in your dollhouse will also help make it look more realistic.
Test before installing anything
The process of building a dollhouse you intend to keep for a long time can be a lot like the process of building a real house. You'll be doing a lot of work that will be permanent to the structure, which is why it's important to have everything planned out and tested first.
This includes making sure that any compounds you intend to use are compatible with your dollhouse materials, installing any permanent fixtures such as hardwood floors, running electricity through the dollhouse, as well as making sure that you're using the right paint for your doll house furniture, among other considerations. The last thing you want to happen is to mess up and live with crooked wallpaper or flooring in your dollhouse.
Keep copyright laws in mind
Copyrights and trademarks are complicated subjects among artists. They protect your work, but in turn, they protect the work of others. This means that you can't just use certain designs without the permission of its original creator.
This doesn't just apply to dollhouses; it also applies to dollhouse accessories and doll house furniture. It is especially important to be mindful of copyrights and trademarks if you intend to display or profit off of your dollhouses and miniatures.
You absolutely can take inspiration from popular media when building your dollhouse, but it's best to stick to royalty-free imagery and graphics if you don't want to deal with the legalities.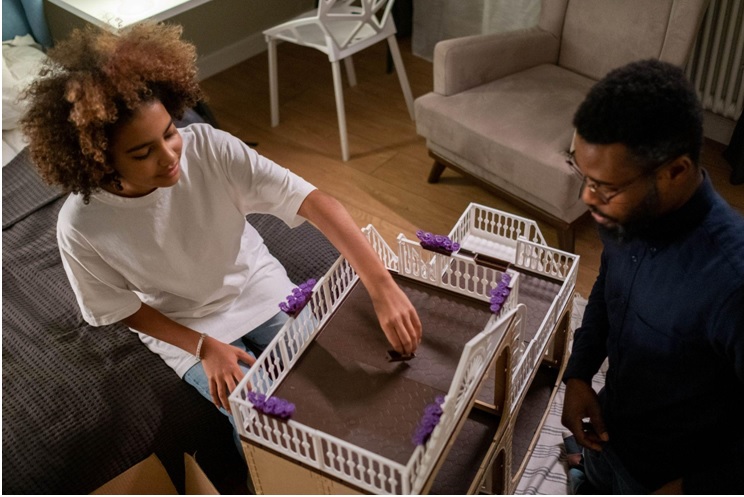 Here at Dollhouse City, we aim to be your #1 online source for all things dollhouses! Shop our wide assortment of dollhouse kits, doll house furniture, and dollhouse accessories now.